Posted by: Tabletop Empires Dec 20 2014, 03:55 PM
Its been a busty couple of months here at Tabletop Empires And with Christmas almost on Us I thought i'd provide a quick last minute update on what's been happening...

http://www.tabletopempires.com.au/miniatures-fantasy-10/D-andamp-D-Attack-Wing-Miniatures-Game

D&D Attack Wing is a Dungeons & Dragons tactical flight and ground combat miniatures game, featuring pre-painted dragons, siege weaponry, and troops from the Dungeons & Dragons Forgotten Realms® universe.




Utilizing the FlightPath™ maneuver system (seen previously in Star Wars: X-Wing and Star Trek: Attack Wing), command your army in epic aerial and ground combat & customize your army with spells, equipment, weapons, special abilities and more!

The game features a core starter set, a range of expansions that will continue to grow over the coming months and years, and other accessories such as faction base & peg sets





http://www.tabletopempires.com.au/roleplaying-11/Through-The-Breach-Malifaux-RPG

Based in an alternate Earth, The Malifaux setting uses gothic, steampunk, and victorian horror with a dose of the wild west to inject fun and depth into the magical lawlessness of a world rife with monsters, necropunks, man-machine hybrids, gunslingers, and powerhungry politicos.

Through the Breach is a tabletop roleplaying game set in the world of Malifaux. Players take on the roles of various citizens, such as Gunfighters, Drudges, Dabblers, and Entertainers. Each of these characters is as unique as the players themselves. These are the Fated. As a Fated, you know your future, it has been told to you, as cryptic as the sparrow on a moonless night. It is your task to rush headlong into the arms of destiny, or to carve your own future.


One player takes on the role of the Fatemaster. It is his duty to craft the legends of the other players, to narrate the story of Malifaux in his own vision, and to move each Fated along towards the moment when they must choose between their fortune and their soul.

Through the Breach is a card-driven RPG, with actions resolved through the reveal of cards from a communal Fate Deck. Each player, however, has a Twist Deck of their own, and they can use these cards to push fate towards their own desires. The Fatemaster, however, relies on no such randomness. He is the lord of providence, after all. It is his task to weave a story, and if he dares to touch the Fate Deck… there are repercussions.





http://www.tabletopempires.com.au/warhammer-40k-17/blood-angels-90




New Blood angels have arrived! a new Codex, Tactical Squad and Sanguinary Priest are the current releases

Staunch defenders of the Imperium from their earliest days, the Blood Angels are a proud and noble Space Marine Chapter who fight to protect the Emperor's realm and to atone for their own hidden failings. For they hide an inner darkness, a gene-curse which reduces their most courageous warriors to raving, blood-mad beasts.


The Warhammer Fantasy - End times books have been re-released in softcover. If you missed them last time around, http://www.tabletopempires.com.au/warhammer-fantasy-16/The-End-Times-Nagash





http://www.tabletopempires.com.au/boardgames-2/fantasy-flight-23/Eldritch-Horror-Mountains-of-Madness-expansion





Details
Explore the farthest reaches of Antarctica in Mountains of Madness, the second expansion for Eldritch Horror.

Inspired by H.P. Lovecraft's novella about an Antarctic expedition ravaged by inhuman, prehistoric creatures, this expansion allows you to trace the doomed expedition's path and enter the immense City of the Elder Things. What happens in Antarctica has worldwide repercussions – freshly-awakened horrors are spreading across the globe.

Monsters and mysteries are surfacing in areas long considered safe. Eight investigators offer you new roles to play as you confront these chilling, inhuman threats. Numerous additional Assets, Spells, Artifacts and Conditions may help investigators or harm them, and for the first time, Adventures and Prelude cards shape the international struggle against the Ancient Ones. Do you have the strength to survive Antarctica's frozen wastes, encounter the Mountains of Madness, and stave off the end of human civilization. Mountains of Madness includes:

• A side board depicting the mysterious expanses of Antarctica
• One rulebook to guide your expedition
• Eight Investigator Sheets
• Two Ancient One sheets, with accompanying sets of Mythos and Mystery Cards
• 156 Encounter Cards and a multitude of Assets, Conditions, Gates, and Monsters




http://www.tabletopempires.com.au/Card-Games-amdamp-LCGs/Other%20Card%20Games/Warhammer-40k-Conquest-The-Howl-of-Blackmane-War-Pack




"So long as there remains one who still rages in the name of justice and truth, the galaxy shall yet know hope."
–Ragnar Blackmane

Hunt across the stars of the Traxis sector in The Howl of Blackmane, the first War Pack in the Warlord cycle for Warhammer 40,000: Conquest! The Howl of Blackmane introduces a new warlord and a new style of play for the Space Marines with Ragnar Blackmane, a commander of the Space Wolves. In addition to the Space Marines' new warlord, you'll find cards for each faction within this expansion, giving you a closer look at the Tau's hyper-advanced technology, the Dark Eldar's sadistic torture, the Astra Militarum's battle tactics, and more.

This War Pack contains sixty cards, including one warlord with its signature squad and three copies each of seventeen unique cards, giving you a full play set of every unit, support, event, and attachment. Whether you spread the corruption of Chaos, march to war with the Orks, or empower the troops of the Eldar, you'll find the cards you need inside this War Pack. The hunt for your opponent's warlord begins with The Howl of Blackmane!



Contains cards 1-22 of the Warlord cycle.

This is not a stand-alone deck. A Warhammer 40,000: Conquest Core Set is required to play.


There's no better place to get your Firefly fix than Tabletop Empires

http://www.tabletopempires.com.au/index.php?route=product/search&filter_name=firefly




http://www.tabletopempires.com.au/miniatures-fantasy-10/D-andamp-D-Icons-of-the-realms-Miniatures/D-and-D-Miniatures-Icons-of-the-Realms-Wave-1-Booster-box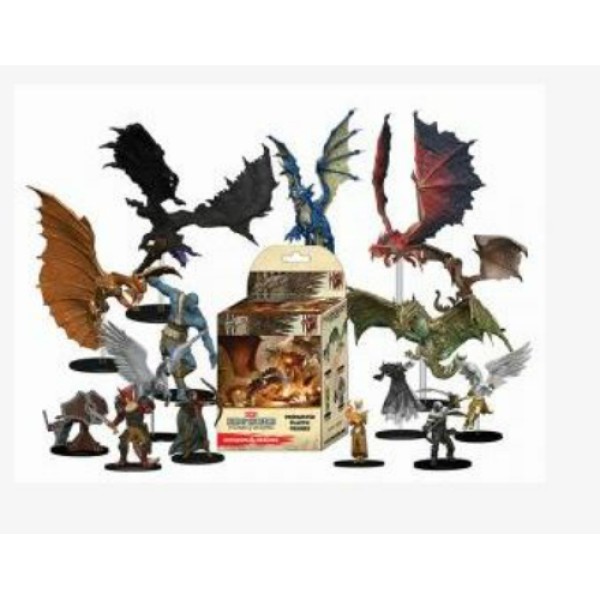 4 figure Blind Booster Box.

Collect all 44 miniatures found in the D&D Icons of the Realms: Tyranny of Dragons boosters.

Found in 4 figure blind booster packs, and inspired by the Tyranny of Dragons storyline, you'll find dragons, kobold fighters, bugbears, wraiths, mind flayers, and many more iconic D&D characters guaranteed to level up your tabletop roleplaying game experience.


http://www.tabletopempires.com.au/Showdown-Icons?filter_name=showdown%20Icons




A fast-paced card duelling game in which two players battle each other to win. Each deck in Showdown: Icons can be played against any other Showdown deck. Showdown: Icons features rough and hardened characters from the world of the Icons, including: Jack of Diamonds, Queen of Hearts, King of Clubs, Ace of Spades and Jokers.

A competitive and non-collectable card game that's engaging for an extended series of battles to determine the master of the realms or as a diversion during your brief downtimes. Each deck is balanced so that players must choose to play straight by the numbers or try t win by out-bluffing their opponent. This box contains all you'll need to play.

Showdown begins in …3…2…1…

The Game includes:

5 Showdown Decks
Rules








Posted by: Tabletop Empires Dec 21 2014, 01:48 PM

http://www.tabletopempires.com.au/boardgames-2/Board-Games-Other-Brands/Mars-Attacks-The-Miniatures-Board-Game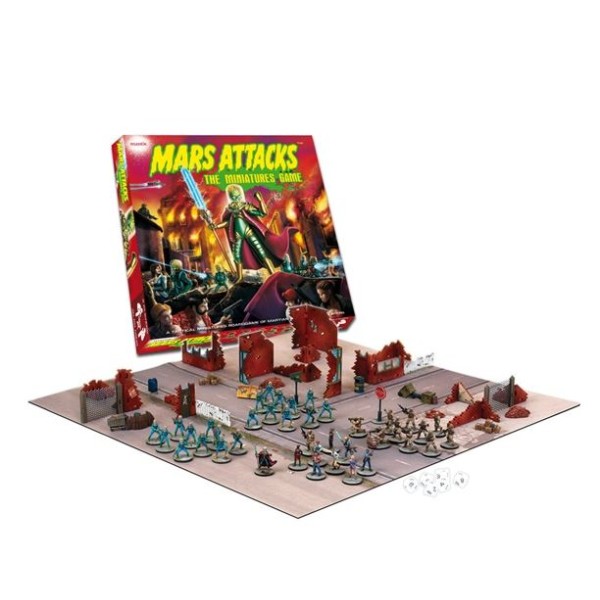 They came from another planet and now they want ours! Hundreds of alien soldiers run rampage as the Martians launch their invasion of Earth. In the small town of Greenville, the streets are choked with rubble and civilians are dead or in hiding. The army is on its way, but they may already be too late. This is the day that the people of Earth will remember forever more. This is the day that Mars Attacks!



This box contains everything you need to play, including:

1 Martian General Tor
20 coloured, ready to play Martian Grunts
Detachable transparent clear plastic helmets
9 coloured, ready to play Civilian Heroes of Greenville
10 coloured, ready to play US Army Troopers
Quick-assemble coloured Ruined Buildings
Urban Accessory Set
Connectors
Fold-out T-Junction Battle Mat
Comic-sized Rulebook
Hero Track
54 Game Cards
Injury Counters, Heroics and more!
Event Counters, including Giant Bug and Civilians
Eight-sided Dice

Models supplied unpainted.


http://www.tabletopempires.com.au/boardgames-2/cryptozoic-entertainment-185/Archer-The-Danger-Zone-Board-Game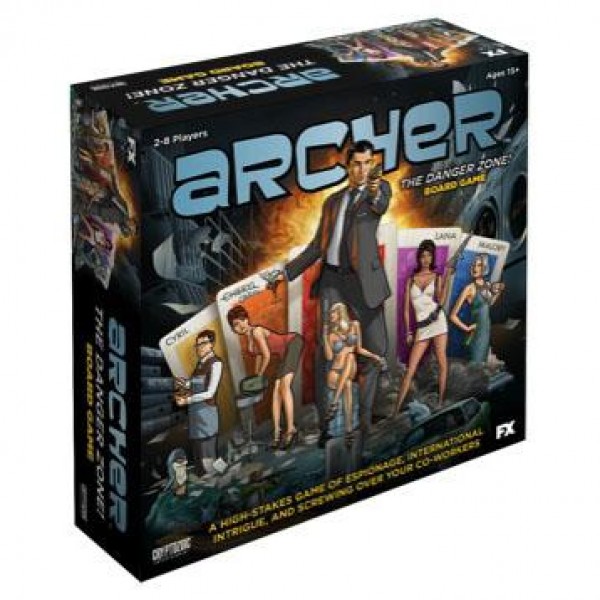 Archer The Danger Zone! Board Game: A high-stakes game of espionage, international intrigue, and screwing over your co-workers.

The object of the game is to gain the Upper Hand over your opponents by insulting them, doing well on missions (quite the ego boost), and encountering random guest stars and secondary characters from the show. Each player starts with 5 Upper Hand. The first player to get to 20 Upper Hand wins the game.

Each player chooses one of the following characters to play: Archer, Lana, Malory, Cyril, Pam, Cheryl, Ray or Dr. Krieger. The insults and dirty tricks you deliver to the other players are based on actual quotes from the show that your character makes. The cards in your unique deck of 20 cards give you the ability to hurl insults, "come on" to another character, or say something that builds up your character's own ego.

The action takes place at the ISIS Headquarters, though spy missions send the gang off to exotic locales each round of play. The game features 6 important office locations within ISIS, but you (typically) play with around 4 of them, making each game play out very differently as the "Office Map" will be vary from game to game. Each location does something different, but only the first person to go to each location each round gets the benefit listed on that location. Surely there will be no name calling when another player beats you to the punch!

The game is all about other players ticking you off and wanting to get the better of them.

There are naturally plenty of opportunities to belittle your co-workers while in the office and out in the field. Doing so will knock them down a peg or two on the Upper Hand track.

It all adds up to a humorously good time!