Printable Version of Topic
WargamerAU Forums _ Modelling Diaries _ [Rezolution] APAC, Ronin and terrain project.
Posted by: Magnus Dec 23 2007, 05:19 PM
Well , I've got addicted to the Sci FI skirmish game Rezolution. "Rezolution is a fast and brutal 30mm cinematic tabletop miniatures game set in a Dark Tomorrow. Take control of an elite group of operatives in a galaxy teetering on the brink of destruction. Where the age old question of are we alone in the universe is finally answered… And we'll wish it wasn't!" from abberants web page. See http://www.aberrantgames.com/ for more info. If you have read the book snowcrash you might be able to relate to the setting, cyberpunk.

Well I decided to reuse my AT43 figures (will never use them for AT43) and make up a CSO squad and some peacekeepers. Re basing onto to 25mm bases and a few weapons swaps worked ok. AT43 troopers are bases on the guy who did the 40K Tau art work and are very similar in size to tau. I wonderwashed the prepainted models blue and it worked a treat. The CSO troopers are just re based, prepaint job is adequate at the moment. Taking a squad of peacekeepers means I can take a stomper. Also reused a confrontation figure for the marshall, just need to mold up a western looking hat. I will list my army soon but need to key it into Xcel first.





While i am waiting for my APAC starter set and some ronin I have started making some new terrain. I brought some Hirst Art molds and I must admit went a little crazy,must be the holiday season.





I going to make a 4 foot square board of an ruined base etc. Will have movable features with the block mounted on 5 mm MDF. I have an outside shed and its perfect for making terrain etc. Not having to worry about making a mess is good. I will be using MDF to make walls and buildings and use the blocks to add the features. Should be fun!

Feel free to comment on my obsession of Rezolution.

Bruce

Posted by: DMG Dec 23 2007, 05:27 PM
That's a lot of casting there Magnus... Can't wait to see what you do with it.

Posted by: Magnus Dec 24 2007, 09:47 AM
QUOTE(DMG @ Dec 23 2007, 08:27 PM)

That's a lot of casting there Magnus... Can't wait to see what you do with it.

Yeah, might have got carried away, but I'm sure I will use it.
Next thing was to cut up some 6mm mdf (1/2 inch) into 25mm, 38mm,50mm and 76mm (1,1&1/2,2,2&1/2) widths and then various lengths. The idea is to save having to back some of the block with blocks. I'm going to use MDF instead. I must admit if you don't have a good saw (mines a Triton which is Aussy made) cutting mdf exactly if impossible. I also quickly cut up some 10mm MDF for base in random shapes with a 45 degree bevel.
Next starting to layup some test to check for heights etc. Very cool even without any paint. The model is one of my world eater veterans .
Next is to get some glue.
Next is to have Xmas with the family etc. Back to this when it rains.....
Posted by: Magnus Dec 27 2007, 06:01 AM
My Ronin list is

Ronin Maven 49
Ronin Fist 52
Ronin Ghost 23
Ronin Second 43
Ronin Esper 41
Ronin: Brick 58
Ronin Shootist 49
Ronin Fiddler & Bomb Bot 31
launcher turret 16
HMG turret 12


Total of 374

Its a bit small but a good learners list with craft powers from the esper and hacking ability with the ghost. The Brick and Fist should provide some backbone while the fiddler can send off his bots and set up his turrets for some covering firepower. I'm waiting for the actual models to arrive so will post soon (hopefully)

While i'm waiting I made some terrain using the hirst block etc. Used no more nails to glue bricks and hot glue for MDF. Not sure entirely on scale etc but it looks ok re GW terrain. Next step is to ink and dry brush, flock.




undercoated and textured with some gravel. I must admit i do like the door and pipe floor tiles the most.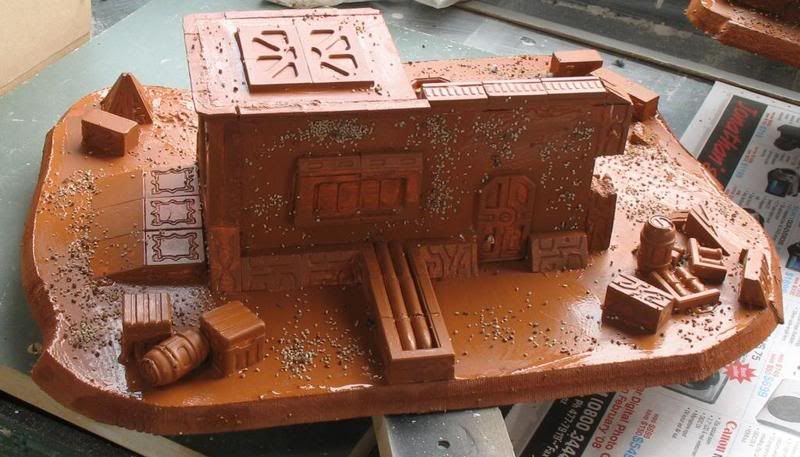 Posted by: Paintingploddy Dec 27 2007, 09:18 AM
Good design for Hirst Arts stuff. You've come up with a great lay out. My only quibble is with the gravel you have added - it doesn't work. You'd be better off getting a tub of texture paint, especially with that many moulds to do.

Posted by: Magnus Dec 27 2007, 01:25 PM
QUOTE(Paintingploddy @ Dec 27 2007, 12:18 PM)

Good design for Hirst Arts stuff. You've come up with a great lay out. My only quibble is with the gravel you have added - it doesn't work. You'd be better off getting a tub of texture paint, especially with that many moulds to do.

Textured paint sounds good. I need to pop into resene and have a look. It would be used mainly for the walls. I hope to add some brown flock or static grass as well. I am making a brown table load first. You have to be quite precise using the blocks but my style is more ad hoc.
Posted by: Magnus Dec 28 2007, 07:18 AM
Thought I'd make some more. Theme of the terrain board is a water processing plant on some barren planet ... So lots of brown, dust and water(blue and green).

made up


washed


dry brush , first layer



Next is to detail, flock and final dry brush.

Thought I'd better show you the shed

Posted by: straylight Dec 28 2007, 08:33 AM
nice work Bruce. I can relate to the mass casting of hirtsart blocks. It is a very satisfying way to spend a day. I take it you used dental plaster ?

Mr Hirstart has a set of really good plans and suggestions on how to use the sci-fi moulds on his site, so if you are looking for extra ideas....stroll across.

I agree with painting ploddy though, about the gravel. It is hard to blend in the hi-tech blocks with a base that suits them. Going all out for the floor tiles is obviously a way out, the make it more space hulk-ish. That way you get corridors and rooms. If you stick with the irregular buildings then perhaps some slime/lava rock/snow/industrial rubble or clumps of broken blocks in between. I think the gravel just looks like some extra scatter !

great stuff. With my billy-lids away for the day, I'm tempted to ressurect the casting process line and replenish my own hirstart block supply !

nice shed btw, I take in the broom is propping it up.....


stu

Posted by: Magnus Dec 28 2007, 05:39 PM
QUOTE(straylight @ Dec 28 2007, 11:33 AM)
nice shed btw, I take in the broom is propping it up.....
stu
Cheers Stu. Long time no see since liber III and the battle of the ditch.
Bit on the nose about my shed mate. Its held up with 4 inch nails and tin :-)
So the gravel is out. I'm working on a way to fix walls, maybe some plaster render or some similar effect.
Posted by: Cave Dec 29 2007, 09:48 PM
Loving it so far. The molds came out nicely and what been built so far is excellent.

With the gravel thing, you can also just mix a batch of textured paint, and then brush it it around the outside. I did this on a city fight table and the result was excellent. Just swing round to a hardware store and get a bag of sand for a sandbox. It normally a little moist when you first get it so it s best to take a couple scoop fulls out and dry them on a baking tray for a day or so. Once the sand is dry just mix it with a non oil interior house paint of the desired color. You can adjust the consistancey to anything you like by adding more or less sand. This would allow you to texture the existing surfaces without having to remove anything already done. The sand also doesn't seem to affect the couple of the paint so whatever color the paint is stay the same.






Posted by: Blind Pig Dec 29 2007, 10:13 PM
Looks really good.

If you're using Hydrocal (Dental plaster) have you ever considered adding an oxide tint to it, just in case it gets chipped or broken?

Oxides are used in concrete, come in many colours, and you would only need a reasonably small amount for the 20-25kg bags that Hydrocal comes in. If they did then get chipped, the tint (say grey or brown) would show and not be as noticable and need touching-up as often.

Posted by: Magnus Dec 30 2007, 02:40 PM
I'm waiting for the factories etc to open after xmas, new year break to get some proper plaster.

I've also been trying to source some 2 part varnish for water effects but have had no luck. Does anybody know of a NZ/Aussy brand? I've got the GW stuff but its sooo expensive.

I'm working on some more 'water works' scenery but its been damp so not good for painting, casting etc.



Posted by: Cave Dec 31 2007, 06:38 AM


I have been looking for that for a couple of weeks to no avail. I ended up just using resin to make a river. A friend suggested try to use a clear Urethane varnish, but it only comes in about 10 liter containers. It may suit your needs, but I have tried it myself.

Cave

Posted by: straylight Dec 31 2007, 09:14 AM
they make some cheaper stuff in two part water effects, but the name escapes me....buy it at bunnings or mitre10, it is used to get a glass finish on timber.

water works....makes sense


keep up the good work Bruce, and yeah, I remember taking a flogging at BotD


stu

Posted by: Magnus Dec 31 2007, 10:40 AM
Semi finished pieces with my peacekeepers and stomper (I'm waiting for my proper Rez models to arrive)




Troopers



and the table. I've still another few pieces on the go and I need to get some cloth same color as the sand/gravel.




I'm pretty happy with it cf to my old terrain. Its time to upgrade , thanks Mr Hirst for the excellent blocks. Next set urban setting with lots of gray and lots of rubble.

Posted by: Magnus Jan 1 2008, 09:45 AM
Last post for a while. Finished the water works piece.

All I need to do is buy a new cloth same color as flock/gravel and then test it out.




Its a bit hard to see but used water effects in middle. Makes for a nice contrast to rest of table.

One last bit, a landing zone. I will highlight with yellow i think




Thanks


Powered by Invision Power Board (http://www.invisionboard.com)
© Invision Power Services (http://www.invisionpower.com)