NOTE: My insight and summary of Full Thrust may not be as accurate or in depth as others out there on the internet. I've only had about two dozen games, but this has been more than enough for me to want to share my passion for what I consider to be one of the best miniature games on the market.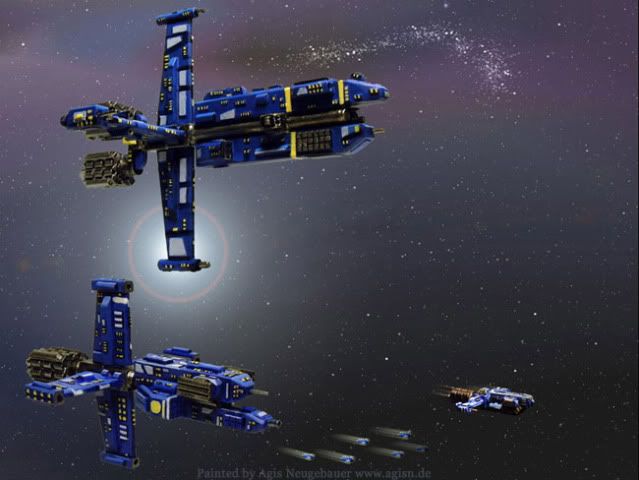 So Full Thrust
, what is it? No it's not some B grade porno, it's a miniature game centred around epic space battles using miniatures from Ground Zero Games. There are 13 different human factions based on geographical location, political power or religion, as well as 3 alien factions. Other than the three alien factions, all human fleets use common weaponry and technologies although each faction generally lean towards specializing in specific technologies so that the game allows each faction it's own uniqueness. This doesn't mean they don't have access to most (if not all) common weapon and defensive systems, they might have have fewer ships equipped with certain technologies. The game is played on a 6x4 table with standard space battle terrain such as asteroids, planets and possibly nebula should you want to use advanced rules. Game sizes vary but we have regularly been playing 1200 - 1500 points as a nice entry level to the game which allows you to field one or two capital ships with fighters, 3-4 cruisers, a couple of frigates or destroyers and plenty of annoying little corvettes. We haven't found games take too long, but it would be wise to allocate up to 2 hours for a 1500 point game should you want to wipe your opponent out, or perhaps just over half as much time if you play some of the scenario's which have been written for the game. Most importantly the game has a very small financial investment should you want to give it a go, with most starter fleets only costing about $60 (some of which can field 1000 points alone) while the rulebook is free to download.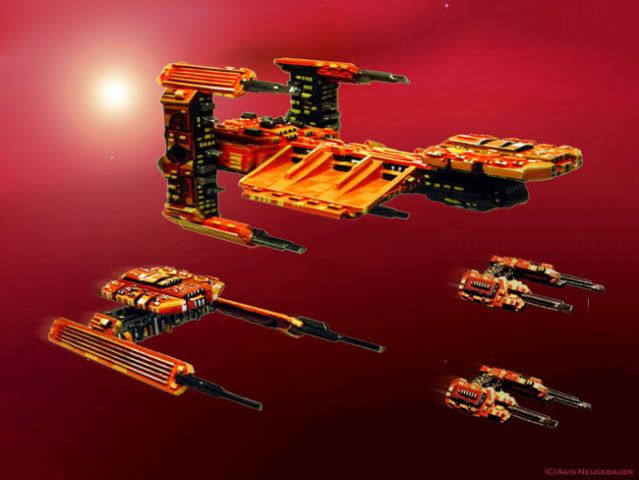 There are plenty of space games out there, Firestorm Armada, Battlefleet Gothic, Starmada just to name a few so why should I try Full Thrust?
Full Thrust really is the grand daddy of most space fleet battle games out there. Its first edition was published in 1991 but despite this, the game still has a strong gaming community. We are currently up to edition 2.5 but there is word that version 3 will be out in the not so distant future. Many games took elements from Full Thrust and incorporated them into their own. For example anyone who has been playing the current Firestorm Armada game would recognise the laser / beam to hit system, where 4's and 5's hit and 6's and be rerolled for additional damage. The gaming mechanics really are well thought out and run so smoothly that other game systems have wanted to take elements of it to add to their own. Unlike other games, Full Thrust has an incredibly rich combat mechanic due to the large variety of weapon systems which are available to your ships. Most other space combat games have far fewer weapon systems, and many games like Starmada don't use visual weapons like missile's, they are all based on imagination and basic dice rolls. A brief summary of many (but not all) are below:
Beams 1, 2, and 3's. These are your typical laser guns, 3's fire three times as many shots at short range compared to 1's, or they can fire a single shot three times the range of 1's. Each with limited firing arcs.
Torpedo's. Think of these as beams but short range and high damage
Missiles. These are one of the most exciting weapon systems in full thrust. You place a missile marker within their max range, anticipating where you think your opponents ship will move to (more on this later). After your opponents movement, the missiles hone in on the closest heat source and try to penetrate their hull should they be able to get through fighter screens or defence systems. Half of the fun here is to use your cheap corvettes and frigates smartly to try and protect your heavier ships, by being the closest heat source to enemy missile fire.
Heavy Missiles. As above, just shorter range and incredible damage!
Needle Guns. While difficult to hit with, these weapons can specifically target an enemy ships system of choice to try to destroy it. Take out your opponents fire control system and which him cry when his ship can't fire any of its weapons.
Scatter Guns. Front arc only, high damage but very short range one use weapon system. Half the challenge is
getting these guys in close and personal alive, while maintaining a front arc.
PDS. Point defence systems to take down enemy missiles and fighters.
EMP. Treated as beams, but these weapons can take offline your opponents electronic systems rendering them useless.
The list goes on, but then you have all the different types of fighters you can equip in your carriers -
Fighters, Heavy fighters, Interceptors, Torpedo Bombers. Each with their own strengths and weaknesses. Fighters are another really exciting mechanic of Full Thrust, you need to make the tough decision on whether to play offensively with them and swarm the enemy ships with fighter fire, or keep them back as a screen to your vulnerable ships, and enter dogfights with any enemy fighters coming your way. Fighters over a given amount of time will run out of endurance (fuel) or take too many casualties, and will need to fly back to their carrier ship to refit, refuel and relaunch!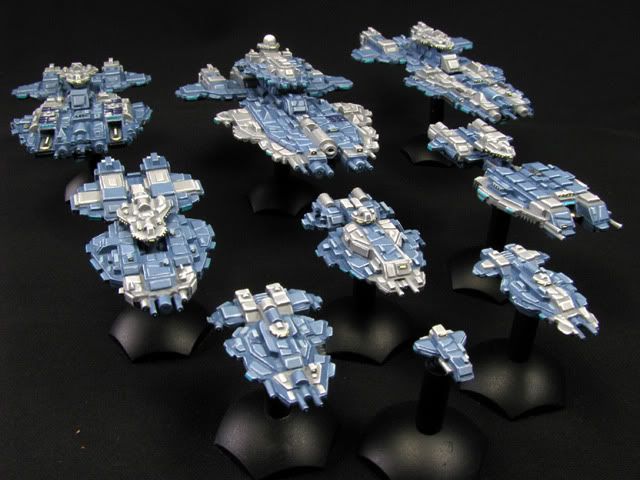 What sort of movement system does it use?
Full Thrust has quite a unique movement system where both players write down secret move orders for each ship in their fleet. Once all orders have been written both players simultaneously move their ships to their new locations. Half of the strategy of full thrust is anticipating where you think your opponent is going to move his fleet while trying to hide your own agenda. Movement orders are written in such a way that you write how much you are going to increase or decrease throttle, and how many points you are going to turn Portside or Starboard. Obviously the faster you are moving, the more difficult it can be to turn your ships. Just don't move off the board or your ship is considered lost!
Each ship has a SSD (ship status display) print out which shows all of the weapons and technologies it contains. It also has a few rows of hull boxes which get crossed off as a ship takes damage, and once a complete row of hull damage is crossed off you must take threshold checks to see if any weapon systems, engines life support etc. have gone offline. Now this mechanic gets a few complaints from gamers saying it is slow, but I personally love it. It's like checking the miscast table in a gamer of Warhammer with both players excited to see what catastrophe is to take place. The basics are as follows, once the first row of hull damage has been crossed off you roll a d6 for each system. On a roll of a 6, it is destroyed / offline. Once the second row of hull damage has been crossed off, systems are destroyed on a roll of a 5+, and 4+ on the third row etc. (Note, ships generally don't go beyond 4 rolls, so you never roll less than a 4+ to see what's offline before a ship is completely destroyed). So focus firing on powerful battleships may be a good strategy, as it can greatly reduce the enemy ships firepower, even if it isn't destroyed. Each ship does have damage control parties which can attempt to bring a system back online, but you lose more damage control parties the more your ship takes damage. A SSD can be seen below -
Perhaps in a later post I'll give a quick summary as to how each faction plays and their strengths / weaknesses but for now I encourage everyone to take a look at the following few resources, have a read and give the game a go. There are some light rules with limited weapons to test the game with paper cut-outs before investing any money in the game.
GZG Website -
http://www.groundzerogames.net/mambo/
Full Thrust Rules including Light starter rules -
http://www.groundzerogames.net/mambo/index...9&Itemid=50
Website with ship stats and SSD's (need to print these out to play) -
http://fullthrust.star-ranger.com/
Australian Reseller of ships (alternatively buy from GZG online store) -
http://www.eurekamin.com.au/
Lastly, as far as a complete set of all rules in an easily readable format I suggest you download and read Full Thrust Cross Dimensions instead of the rules from the GZG website. Cross Dimensions fixes a couple of imbalances the game has in 2.5 (which are meant to be addressed when 3.0 comes out). GZG has fully sanctioned cross dimensions and advises people play by those rules until 3.0 comes out. Full Thrust Cross Dimensions also has the rules in an iPad format which was a godsend for me! -
http://members.ozemail.com.au/~laranzu/ful...ules/index.html
Good luck and happy Thrusting!
Staks