Take a look at the original here:
Link
Conquer the world at tournaments and learn new skills at hobby days!
Events are your opportunity to immerse yourself fully in the hobby with, potentially, people from all over the world. Large or small, events are the places to spend your weekends.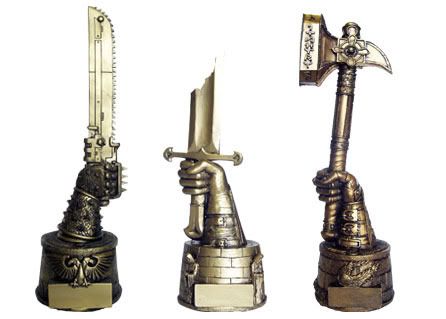 Games Workshop Best Army Trophies
For 2010, if you play in a tournament, you'll now have the chance to win one of these fantastic Best Army Trophies designed by Forge World.
These wonderfully sculpted trophies are now available for participating tournament organisers to order (at cost) once they have registered their event with Games Workshop. These gold finish trophies are for the Best Army category of any event, as this represents the pinnacle of hobby effort, and not lucky dice rolls!
Are you a tournament organiser, Hobby Centre, Independent Stockist, or Club that's running an event? If you want to advertise it for free in White Dwarf & on the Games Workshop web site, simply drop us an e-mail with details of your event (see right for what we require) to: events@games-workshop.com.au
A Guide To The Information Required*
:
Title of Event - (A bit obvious)
Date - When it will take place
Venue - Where the event will take place
Details - A brief description of the event
Cost - How much for entry per person
Contact - Who is the main public contact
Their email address
Their contact telephone number
Website - The correct URL For the event
*We often choose certain events to make feature advertisements in the White Dwarf, so if you'd like to include 200-300 words describing your event as well, this could come in handy if we choose to make a feature of your activity in this way.
Once your event is registered this way, we will contact you with details on how your event will be eligible to order one of these gold finish trophies (if you run more than one games system at your event, you may choose additional styles - although limited to one of each style), as well as apply for a limited amount of Games Workshop prize vouchers at discount. Under no circumstances are we able to supply product as prizes. This new support will begin after January 20th 2010. Conditions will apply to the supply of event support in this way.
The closing dates for receiving details for publication in the following issues are:
• 1st December '09 WD363 (March 2010)
• 1st January '10 WD364 (April 2010)
• 1st February '10 WD365 (May 2010)
• 1st March '10 WD366 (June 2010)
• 1st April '10 WD367 (July 2010)
• 1st May '10 WD368 (August 2010)
• 1st June '10 WD369 (September 2010)
Please note, we make every effort that dates and details are correct at the time of going to print, if your event details change after the above deadlines, we cannot alter them in that particular issue of White Dwarf. Games Workshop is also not responsible for the content, timing or price of events not organised by Games Workshop Oz Pty Ltd. Games Workshop is under no obligation to promote or support non Games Workshop games or activities you may hold in conjunction with your event.