I will be running a game that I call "Plains, Trains and Aerosans" where players get to chase after an armoured train in propellor-driven sleds called 'Aerosans', attempting to disable the engine and steal the cargo. Unfortunately for them, the train is shooting back (with large cannons) and naturally the other players will want the glory for themselves and so are likely to be trying to shoot each other too.
The table is laid out with about 30 snow covered terrain modules on it and a railway track down the centre. Here are a few shots of the game in action.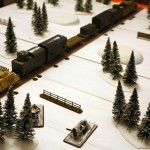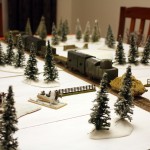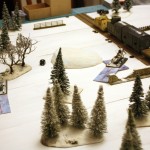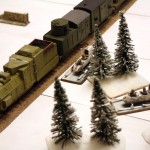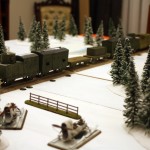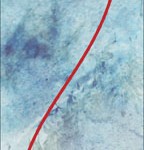 (click each picture to biggify)
You can see one of the movement cards I'm using in the game (there's a couple laid out on the table in one of the shots) – the mechanic for this is essentially the same as Wings of War/Glory, but with the twist that there's things in the way that you have to dodge. It should be a good game and I hope to see you there.