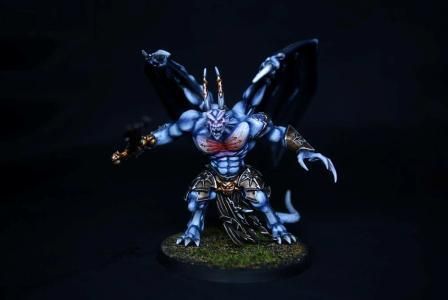 Picture is of actual first place trophy model.
2000pt 40K Tournament
1 force Organisation Chart Only
Saturday 22nd and Sunday 23rd February
Group North Members $40
Non Members $50
Under 18 years $30
$10 discount if paid by 31/01/2014
Trophies will go to 1st, 2nd, 3rd and last.
Sausage Sizzle Provided Both Days.
Full details can be found at www.groupnorth.biz on the tournaments page or email groupnorth@adam.com.au or Simon on 0400 541 970
Players Pack can be found
here
.
Players
01) Ben Vickers (defult06) - Paid
- List received
02) Alexander Krohn (gutsmaka) - Paid
- List received
03) Andreas Nicolay (4indi) - Paid
- List received
04) Aidan Baker - Paid
- List received
05) Andy Penn (Capt Damage) - Paid
- List received
06) Chris Appleby (Zero) - Paid
- List received
07) Chris Berkin (scout max) - Paid
- List received
08) Adam Napier (cool_conoly) - Paid
- List received
09) Matt Cross (Deadmuppet) - Paid
- List received
10) Matt Taverna (SprayAnPay) - Paid
- List received
11) Nick Hardy (Cypher) - Paid
- List received
12) Stuart Johnson (Dismembered) - Paid
- List received
13) Brian Craig (Pion) - Paid
- List received
14) Charles Winsor (Charlie W) - Paid
- List received
15) William Ivens (Dwax) - Paid
- List Received
16) Steve Gilman - Paid
- List received
17) Tim Skrenya - Paid
- List received
18) Zac Butler (Mystblade) - Paying on the day
- List received
19) Travos Boyce - paying on the day
- List received
20) Jarryd (Moses) Wucherpfennig - List received
21) Aaron Blackley (AJ-Crisis) - Paying on the day
- List received
22) Ken Reckless - Paying on the day
- List received
23) Matt Masters - Paying on the day
- List received
24) Michael Knight (dominus nox) - List received
25) Alexander Dagger - Paying on the day
- List received
26) Luke Brown (Harvey Birdman) - Paid
- List received
27) Michael Brittain - Paying on the day
- List received
28)
29)
30)
31)
32)
33)
34)
35)
36)
38)
39)
40)
Grudges
1) Jarryd (Moses) Wucherpfennig vs Michael Brittain
2) Zac Butler vs Alexander Dagger
3)
4)
5)